2023-24 U17AA Zone Coaching Announcement
In early June, we were pleased to announce that during the OMAHA Board's annual meeting on May 27th, our application for U15AA Tier 1 (SAYHA 14UAA) and U18AA Tier 1 (SAYHA 17U Zone/AA) was approved. Per our agreement with OMAHA, our Zone teams will play their home games in Spokane.
As a regional youth hockey leader for more than 60 years, Spokane Youth Hockey remains committed to being an innovative leader in our region. We are focused on consistently improving upon that which we do best: producing competitive and successful teams comprised of highly skilled, aspiring players.
Spokane Youth Hockey is excited about the possibilities we see to develop hockey in Spokane, creating opportunities for player progression in our own programs, and cultivating relationships for our players to pursue their hockey goals at the highest level possible. We are laying this foundation through the selection of talented Division Directors, goaltending staff, and coaching staff to lead and guide our programming.
To that end, we are thrilled to announce our Head and Associate Coaches for the U17AA Zone team, Head Coach Bret Kellogg, and Associate Coach Brent Seidel.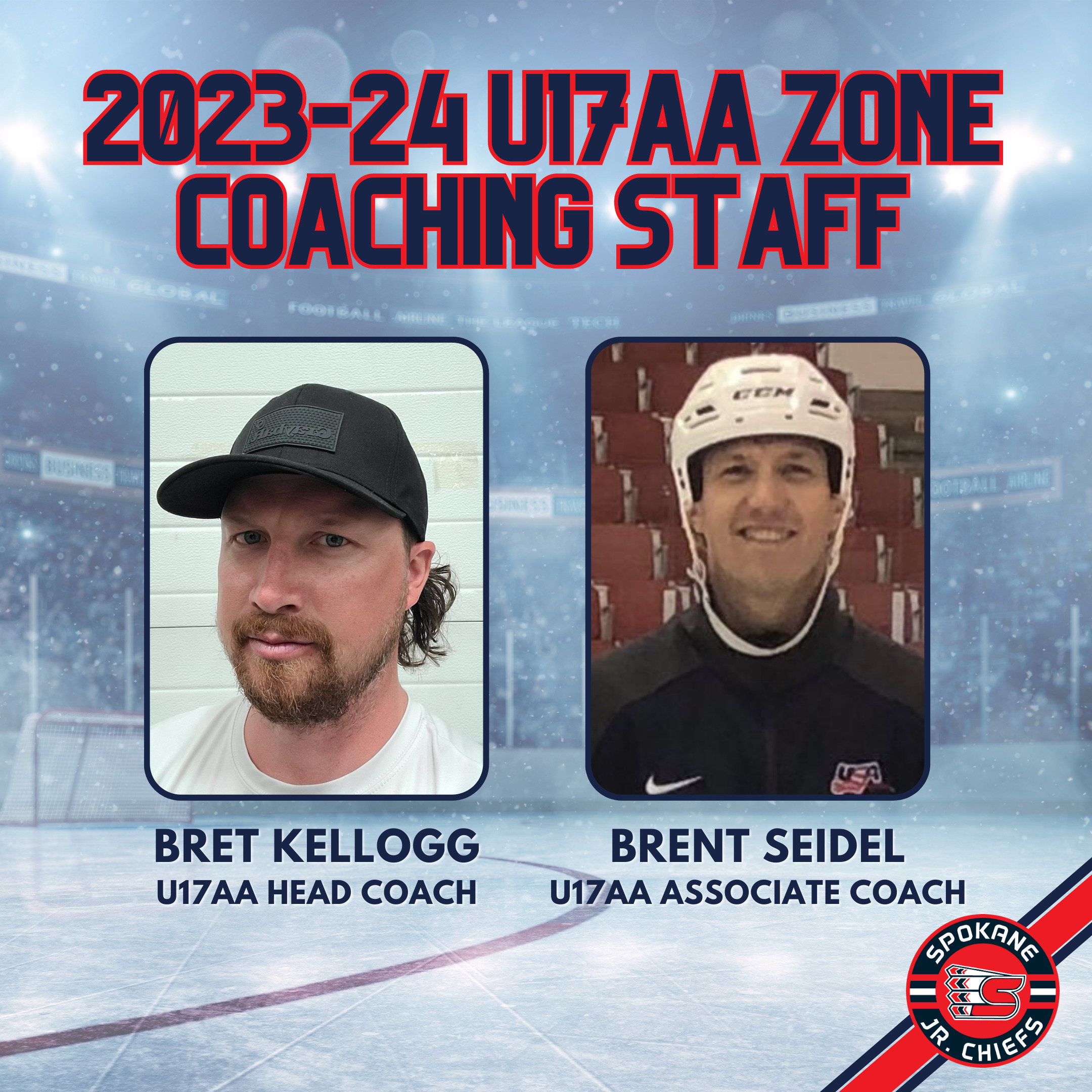 Bret Kellogg
Bret is a Spokane native who grew up playing for SAYHA during his minor hockey days. His playing career extended into Junior hockey in the Pacific Northwest, playing in the NORPAC Hockey League before finishing his junior career with the Spokane Braves. He moved on to collegiate Hockey with Eastern Washington University playing in both the ACHA and the BCIHL. During both his Junior and Collegiate playing career Bret served as Captain for several teams. He was a consummate leader on and off the ice and continued that following his tenure with EWU. Bret served time coaching both as an Assistant Coach and Head Coach at the collegiate level. We are very excited to bring Bret's hockey knowledge and passion back to our association and look forward to seeing him behind the bench with the Jr. Chiefs.
Brent Seidel
Brent is excited to join Coach Kellogg and the Jr. Chiefs as Associate Coach of the U17AA Zone team. Along with working with our SAYHA goalies and in hockey operations, he has been part of our team coaching staff, working with teams to help coaches develop and enhance their knowledge of the game. Brent has been a strong asset both on and off the ice with numerous teams across several minor hockey and junior hockey leagues. Brent has worked with teams in the WHL, NCAA (D1), KIJHL, USPHL, NAPHL Prep, NORPAC, and USA Hockey National Development Teams. Coach Seidel works as the Manager of Coaching Education with USA Hockey. We are very excited to have the opportunity to bring Brent into our program as a team coach and look forward to a strong season!