Spokane jr Chiefs | Support SAYHA
The Spokane Americans Youth Hockey Association (SAYHA) is a charitable non-profit organization as defined by Internal Revenue Code Section 501(c)3. Since 1959, the Spokane Americans Youth Hockey Association (SAYHA) has been committed to the athletic and character development of youth hockey players. We are dedicated to individually developing our youth as hockey players while promoting leadership, teamwork, sportsmanship, and respect as we strive for excellence both on and off the ice.
The Spokane Jr. Chiefs practice and play home games at Eagles Ice Arena, and we are proud members of the Pacific Northwest Amateur Hockey Association (PNAHA) and the West Kootenay Minor Hockey Association (WKMHA) in S.E. British Columbia. This year the 16UAA team will also be participating in the Okanagan Mainline Amateur Hockey Association (OMAHA) which will provide the appropriate and highest competition available. Our programming provides youth hockey players with the opportunity to learn not only specialized skills associated with the game of hockey, but also the ideals of good sportsmanship, fair play, hard work, discipline, and teamwork.
This past season, we saw many of our teams conclude successful seasons in both leagues, with many State Festival and Championship wins. The 14U-A1 team competed at the highest level in the USA Hockey Tier II National Championships in Kalamazoo, MI. We anticipate another great Spokane Jr. Chiefs season in 2022-23!
Ice hockey is a very expensive sport: Equipment, ice rental, referee fees, tournament and travel expenses are a huge financial commitment from youth hockey families to play our great sport. To keep our fees low, a considerable amount of team and Association fundraising opportunities are conducted each year, along with generous support from our community sponsors. With your help, our program can grow and benefit more youth players pursuing their dreams.
We are looking forward to our 2022-23 season, again offering a Learn to Play for those just starting out, up to the highest level of our National Bound teams at 16U. We are proud of our programming and our Spokane Jr. Chiefs players, coaches, and parents. We look forward to working with your organization and thank you in advance for your sponsorship consideration of our Spokane Jr. Chiefs players, teams, programs, and tournaments. All donations are tax-deductible to the extent allowed by law.
Sincerely,
Matthew Laidlaw, Community Development Director
Spokane Youth Hockey
Spokane Youth Hockey 22-23 sponsors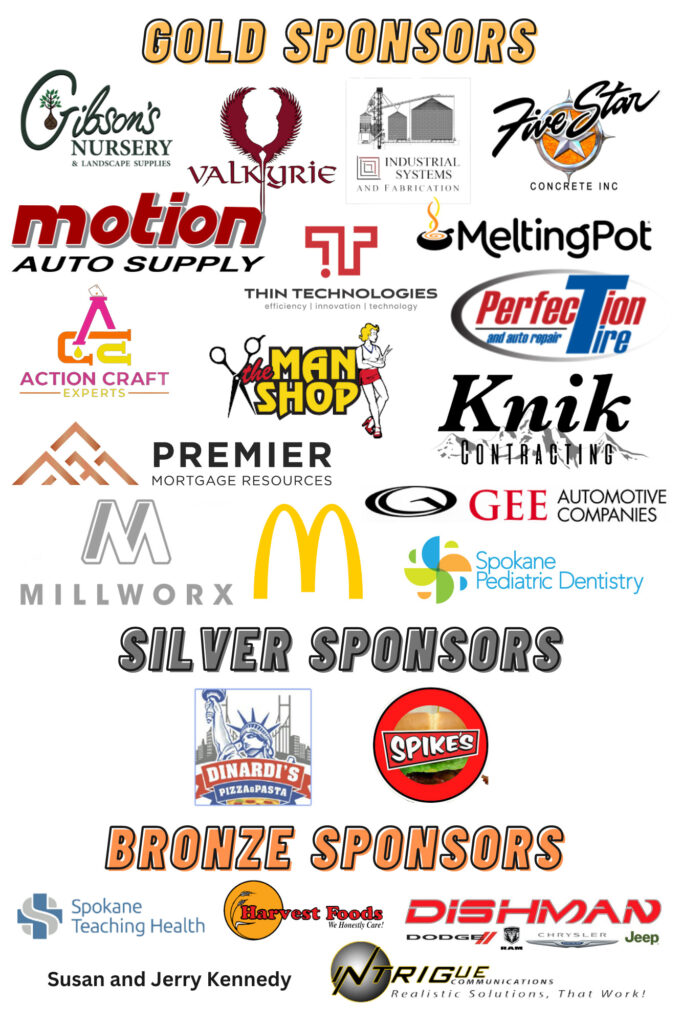 Many of our Spokane Youth Hockey families are already generous sponsors of their player's team. We also know that many in our hockey community have great business contacts in Spokane and beyond. While the overall sponsorships help the Association and the team, we'd like to offer each member who brings a new sponsorship to Spokane Youth Hockey a 10% "finder's fee" which will be credited to your individual player's account upon the successful processing of the new sponsorship! For example, with a Gold Level Sponsorship (with your name credited), your player will receive a $100 credit. This is a great way to earn money off of your player's season fees, while still helping out your team and the Association!
Spokane Youth Hockey Donation Sponsor (In Kind Donation Valued at $200 or more)

A large part of the success of our association events is through our sponsors who donate special items to be auctioned, raffled or provided as gifts. There is no charge to be a Donation Sponsor with a gift valued at $200 or more (for in-kind gifts commensurate with monetary values listed above, all benefits will be included).

Player Sponsorship

Funds will be distributed to the account of the specific player that you request below. We sincerely appreciate your support of this Spokane Jr. Chief (please note that your payment is not considered a charitable contribution. However, individual players may add your logo to their jersey/s at their discretion and cost).

Charitable Contribution and/or Donations In Memoriam

With these donations, Spokane Youth Hockey will distribute funds to best meet the need of the Association and its members.
Please contact Community Development Director Matt Laidlaw, or Program Director Katie Sieck, for questions about sponsorships, in-kind donations, player sponsorships, and donations in memoriam.
Your generous gift to Spokane Youth Hockey is genuinely appreciated!