WELCOME TO SPOKANE YOUTH HOCKEY'S LEARN TO PLAY PROGRAM!
Our goal is to teach players the fundamentals and skills needed to play hockey in a fun and engaging way that will develop a passion for the sport. We do this by creating station-based practices that teach those important skills while keeping your player moving and active for the entirety of the session.
When your player graduates from our Learn to Play program they will not only love the sport of hockey, but they will be ready to seamlessly enter our regular season programming!
Registering for Learn to Play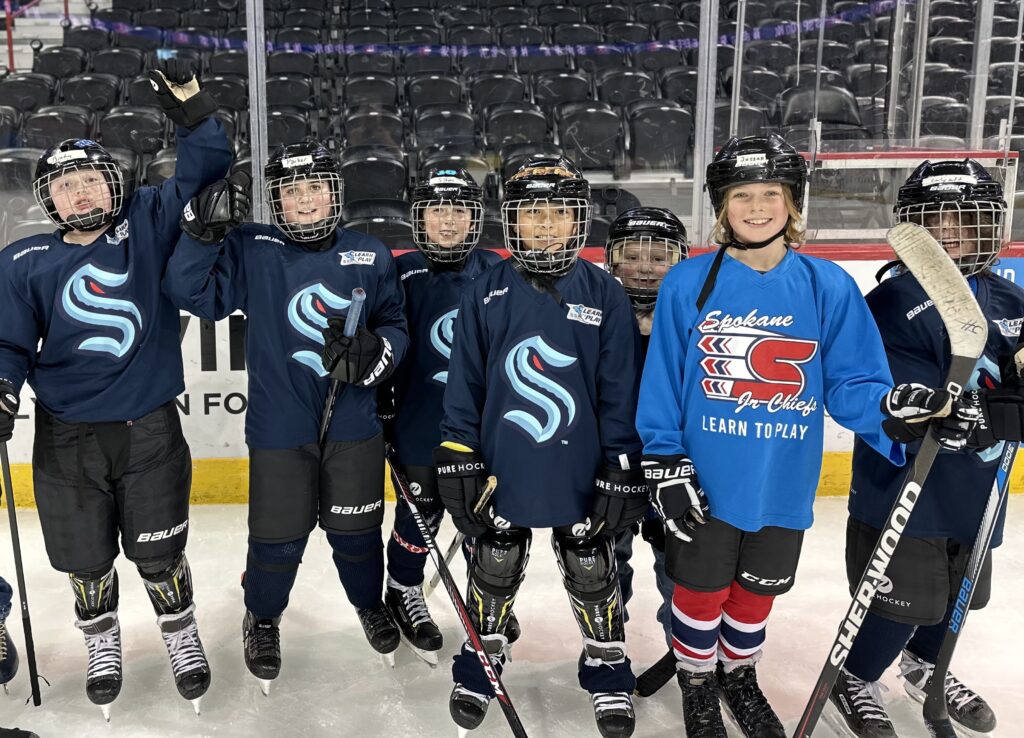 Mastery of fundamental skills and the FUN of playing are essential to the development of lifelong interest in hockey.
Instructors include Spokane Youth Hockey coaches, hockey directors and Lilac City Figure Skating Club skate instructors.
Each session will include 5-10 minutes of warm-up activities and 40-45 minutes of small-area drills and games (4-6 stations).
The Learn To Play Program was designed for skaters to learn the basic skills required to play the game of hockey, develop an understanding of basic teamwork through participation in a variety of activities and adapted game situations, have fun while playing hockey and engaging in physical activity, create and refine basic motor skills, be introduced to the concepts of cooperation and fair play.
Please bring a water bottle labeled with your player's name on it.
Before Arriving to Class: You will receive an email from LeagueApps to invite you to this Learn to Play session. Please accept this invitation. Please download the LeagueApps application to your phone. This app will be the main form of communication for/to/with our Learn to Play families.
On The First Day: When you arrive at Eagles Ice Arena (6321 North Addison), please enter the back doors of the rink (facing Lidgerwood) and check in with our staff at the registration table. We will have staff onsite to direct you to an area to put on equipment and skates. Skaters will meet on ice and will be briefly evaluated and divided by ability.
We will communicate with you via the LeagueApps chat feature and please do not hesitate to contact us with questions or concerns.
Full hockey gear/equipment is required. Read the 'What to Wear for Learn to Play' tab to learn more.
WHAT TO WEAR FOR LEARN TO PLAY ... AND BEYOND
We recommend dressing in this order: Athletic supporter/cup, knee/shin pads, hockey socks, pants, skates, chest pad, elbow pads, jersey, HECC approved helmet, gloves and a stick. We do not advise wearing equipment big enough "to grow into"—proper fitting equipment will ensure your child's safety, comfort, and ease of movement.
Before the first practice we will have our coaches and staff onsite to help new players/families dress in all their hockey equipment, but in the interest of time, try to come to the rink as dressed in all gear as is possible. Locker rooms are available 20 minutes before the session. 
We will spend some time off the ice in full gear teaching kids how to get up, stand in a hockey ready position, bend, touch toes, sit, squat, balance on one leg, etc. It's important that our athletes feel comfortable moving in hockey gear.
Please contact us to see if we have any gently used gear that your player could utilize as they start our Learn to Play program! Please contact Program Director, Katie Sieck (katie@spokanejrchiefs.com).
If you are a military family, you can also request financial assistance for gear at United Heroes League, an organization who helps military families heal, build friendships and engagement in their communities through sports. United Heroes League actively works to ensure that children of military service members are afforded every opportunity to participate in sports. They have provided over $20 MILLION worth of free sports equipment, game tickets, cash grants, sports camps and special experiences to military families across the US & Canada.