2023-24 League Announcement
2023-24 OMAHA League UPDATE
As previously announced, Spokane Youth Hockey submitted an application to play in the OMAHA (Okanagan Mainline Amateur Hockey Association) Zone League at the Tier 1 AA level.
We are pleased to announce that during the annual meeting on May 27th, our application for U15AA Tier 1 (SAYHA 14UAA) and U18AA Tier 1 (SAYHA 17U Zone/AA) was approved by the OMAHA Board. Per our agreement with OMAHA, our Zone teams will play their home games in Spokane.
In addition to the application for U15AA and U18AA, SAYHA submitted applications for other teams to join OMAHA leagues this season. We are pleased to share that all of our additional applications were also approved.
SAYHA will be joining OMAHA in the U13 Tier 1 (SAYHA 12UA), U11 Recreation Development (SAYHA 10UA), U13 Carded team (SAYHA 12UB - TBD following Evaluations), and U18 Carded team (SAYHA 16UAA) leagues. All Spokane home games for these teams are to take place in Midway, BC per our agreement with OMAHA. Games for U13 and up may be played in Spokane if the visiting OMAHA team is willing to travel to Spokane.
Spokane Youth Hockey is excited about the possibilities we see to develop hockey in Spokane, creating opportunities for player progression in our own programs, and cultivating relationships for our players to pursue their hockey goals at the highest level possible.
We're grateful for this opportunity from the OMAHA Board and are proud to join these OMAHA Leagues as a guest team.
Through our commitment to competitive, intense, engaging, and ambitious programming, we are excited about the high levels of competition offered in the OMAHA Leagues, the West Kootenay Minor Hockey Association Rep League (WKMHA), and our Pacific Northwest Amateur Hockey Association (PNAHA) league for our SAYHA Rep teams.
Spokane will play as a guest team in OMAHA and will continue as a Member Association in both West Kootenay and PNAHA this season.
As a regional youth hockey leader for more than 60 years, Spokane Youth Hockey remains committed to being an innovative leader in our region. We are focused on consistently improving upon that which we do best: producing competitive and successful teams comprised of highly skilled, aspiring players.
We want to share a huge thank you to our West Kootenay/OMAHA Rep Chris Florko and our Hockey Operations Team for their time, effort, and energy in securing these opportunities for our players to play high-level hockey in Spokane. We are so proud to be leading the region in providing opportunities for our players to play at this level while staying local.
Additional information about the 16UAA and U17 Zone teams will be made available ahead of team Evaluations later this month.
Please watch for announcements here on the SAYHA website, on SAYHA's social media accounts, and by email.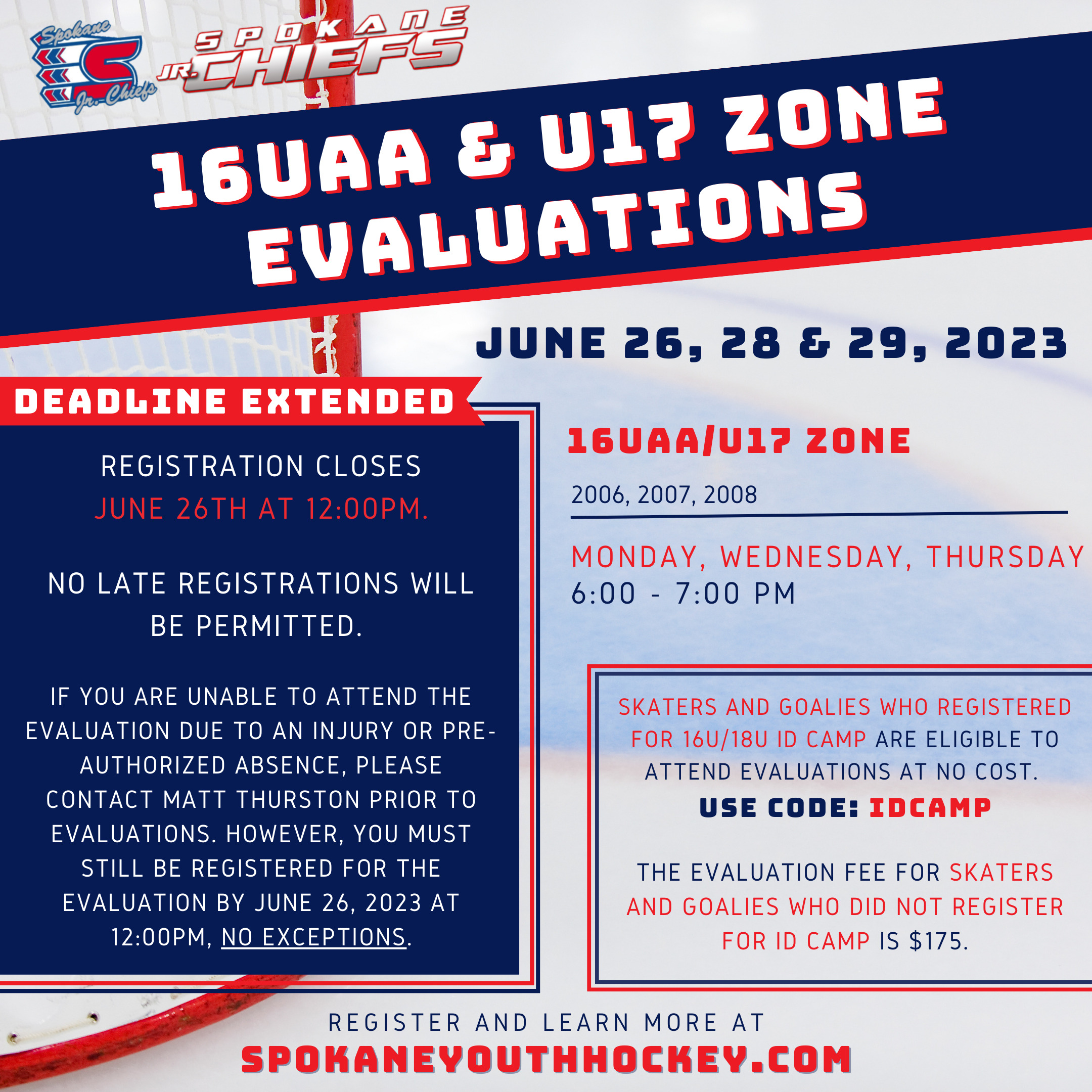 TEAM EVALUATIONS
16UAA and U17 Zone Team Evaluations will be held June 26th, 28th, and 29th! Register now!
Skaters and goalies registered for SAYHA's 16U/18U ID Camp are eligible to attend Evaluations at no cost. Use registration discount code: IDCAMP for no-cost registration.
The evaluation fee for Skaters and goalies that did not register for ID Camp is $175.
Registration for Evaluations closes on June 23rd at 11:59 PM. No Late registrations will be permitted.
If you are unable to attend the evaluations due to an injury or pre-authorized absence, please contact Matt Thurston prior to Evaluations. However, you must still be registered for the Evaluations by June 23rd at 11:59 PM. NO EXCEPTIONS.
Review the Rep Division Policies HERE.
**IMPORTANT NOTE** Prior to registering for Evaluations, players MUST register for a 2023-24 USA Hockey Membership Number HERE.