Spokane jr Chiefs | Teams & Programs
Spokane Youth Hockey's 8U Academy offers an additional weeknight evening session of ice time where our older birth years can continue practicing and playing with top-end caliber players.
Advanced skating, skills, reps, and small area games will be emphasized. The goal of this elevated, 22-week program is to prepare our older 8U players to play at the 10U Rep level next season, excel at the 10U house level and/or return as advanced players in our 8U Division next season.
About ACADEMY
22 Week Season (weeknight ice)
Early Start to the Season (program begins September 11th, two weeks before the 8U House season)
Advanced skating, skills, reps, and small area games
Small groups - Max 35 players
4 Themed Mini-Tournaments
Additional Regional Away Tournament
8U Academy is not a select, rep, or tournament team.
There are no tryouts or evaluations for 8U Academy. All players in the two oldest 8U birth years registered for SAYHA 8U House programming are eligible for Academy and can register on a first-come, first-served basis. Younger players are considered on a space and skill development basis.
Though 8U Academy competes in mini-tournaments and may enter into local/regional tournaments, the teams/rosters are not selected for tournament participation and are always entered into a gold/major/etc., division as appropriate.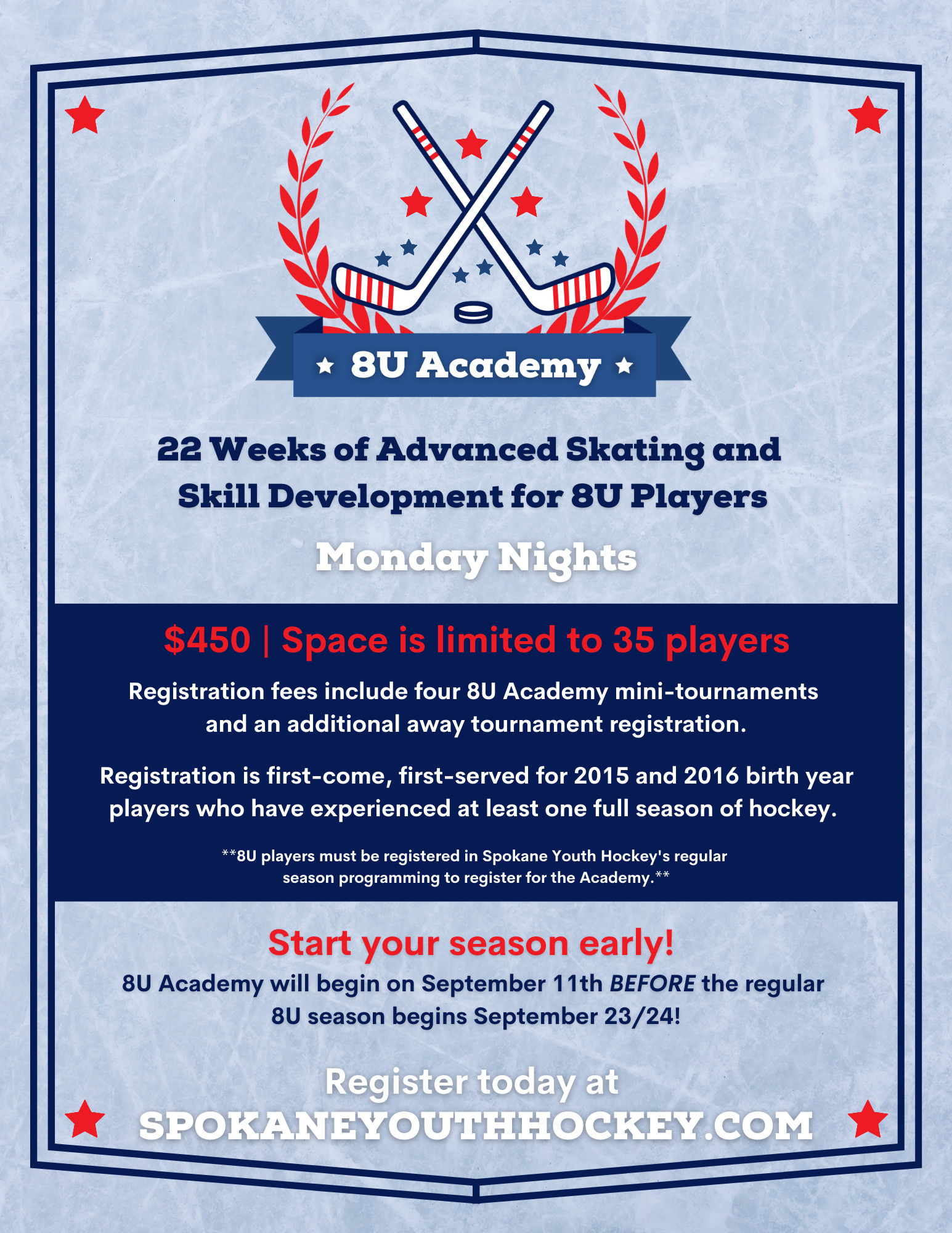 8U Academy is scheduled on Monday evenings (time TBA). Space is limited to 35 players - registration is first-come, first-served for 2015 and 2016 birth year players who have experienced at least one full season of hockey.
Four SAYHA mini-tournaments and an additional away tournament registration are included in the registration fee (payment plans are available). **Please note that 8U players must be registered in Spokane Youth Hockey's regular season programming to be able to register for the Academy.
Get a jump on the season! 8U Academy will begin on September 11th BEFORE regular 8U season practices begin (September 23/24).