2023-24 14U/16U/18U Rep Division Announcement
Spokane Youth Hockey is excited about the possibilities we see to develop hockey in Spokane, creating opportunities for player progression in our own programs, and cultivating relationships for our players to pursue their hockey goals at the highest level possible.
To that end, we have submitted an application to play in the OMAHA (Okanogan Mainline Amateur Hockey Association) Zone League at the Tier 1 AA level. Our application will be voted on the weekend of May 26/27. We are confident of our acceptance but await the decision of the OMAHA league, as it is not guaranteed. If we are accepted, our 14UAA team and a newly-formed 17U team will play in the OMAHA Tier 1 AA league next season in addition to other league opportunities.
Through our commitment to competitive, intense, engaging, and ambitious programming, we are excited about the high levels of competition offered in the OMAHA Zone League, the West Kootenay Minor Hockey Association Rep League (WKMHA), and our Pacific Northwest Amateur Hockey Association (PNAHA) league for the 14UAA, 14UB, 16UAA, and potential 17U Zone teams.
As a regional youth hockey leader for more than 60 years, Spokane Youth Hockey remains committed to being an innovative leader in our region. We are focused on consistently improving upon that which we do best: producing competitive and successful teams comprised of highly skilled, aspiring players. We are laying this foundation through the selection of talented Division Directors, goaltending staff, and coaching staff to lead and guide our programming.
We are pleased to welcome back Matt Thurston as coach of the 14UAA team for his third season after back-to-back trips to USA Hockey Nationals at 14U Tier II. We are excited to welcome Eric Rosenberg and Levi Younger to Spokane and to our Rep staff at Spokane Youth Hockey. Coach Rosenberg will lead the 14UB team, and Coach Younger will lead the 16UAA team. Each of these talented head coaches will be supported by Director of Goaltending Development Brent Seidel and a staff of assistant coaches. Learn more about Matt, Eric, Levi, and Brent in their bios below.
Further announcements regarding coaches and the 17U team will be made in early June.
2023-24 Evaluations & ID CAMP
As planned, 14UAA/14UB Rep Evaluations will be held the weekend of May 19th-21st at Eagles Ice Arena. Evaluators will include our 14U Head Coaches Matt Thurston and Eric Rosenberg, 16UAA Head Coach Levi Younger, SAYHA's Vice President of Hockey Operations Jason Greenwell, 12U Rep Head Coaches Chris Wagner and Nick Othmer, Director of Goaltending Development Brent Seidel, and additional coaching and goaltending staff from across the Association.
As we await the decision from the OMAHA Zone League, we are transitioning our 16U Rep Evaluation to a 16U/18U ID Camp. We feel that this offers players the opportunity to be evaluated to a team best suited for their development. If we were to form a 16U Rep team prior to our potential Zone team announcement, we would be limiting the opportunities for players to be evaluated to the 17U Zone and 16UAA teams, respectively.
ID Camp Evaluators will include our SAYHA coaches identified above as well as respected local and regional evaluators representing high-level organizations. As we finalize the list of these evaluators, we will share more information with our players and families.
With this announcement, we have changed the date for the Evaluation fee increase. The fee for Evaluations/ID Camp is now $150 until May 12th. May 13th, the fee increases to $175. Registration for Rep Evaluations and ID Camp will close on May 16th at 8 PM. No Late registrations will be permitted.
If you are unable to attend the evaluations or ID Camp due to an injury or pre-authorized absence, please contact Matt Thurston prior to evaluations/ID Camp. However, you must still be registered for the Rep Evaluation/ID Camp by May 16th at 8 PM. NO EXCEPTIONS.
Registration for 14U Evaluations, 16U/18U ID Camp and 14U|16U|18U Boot Camp is available at the bottom of this page.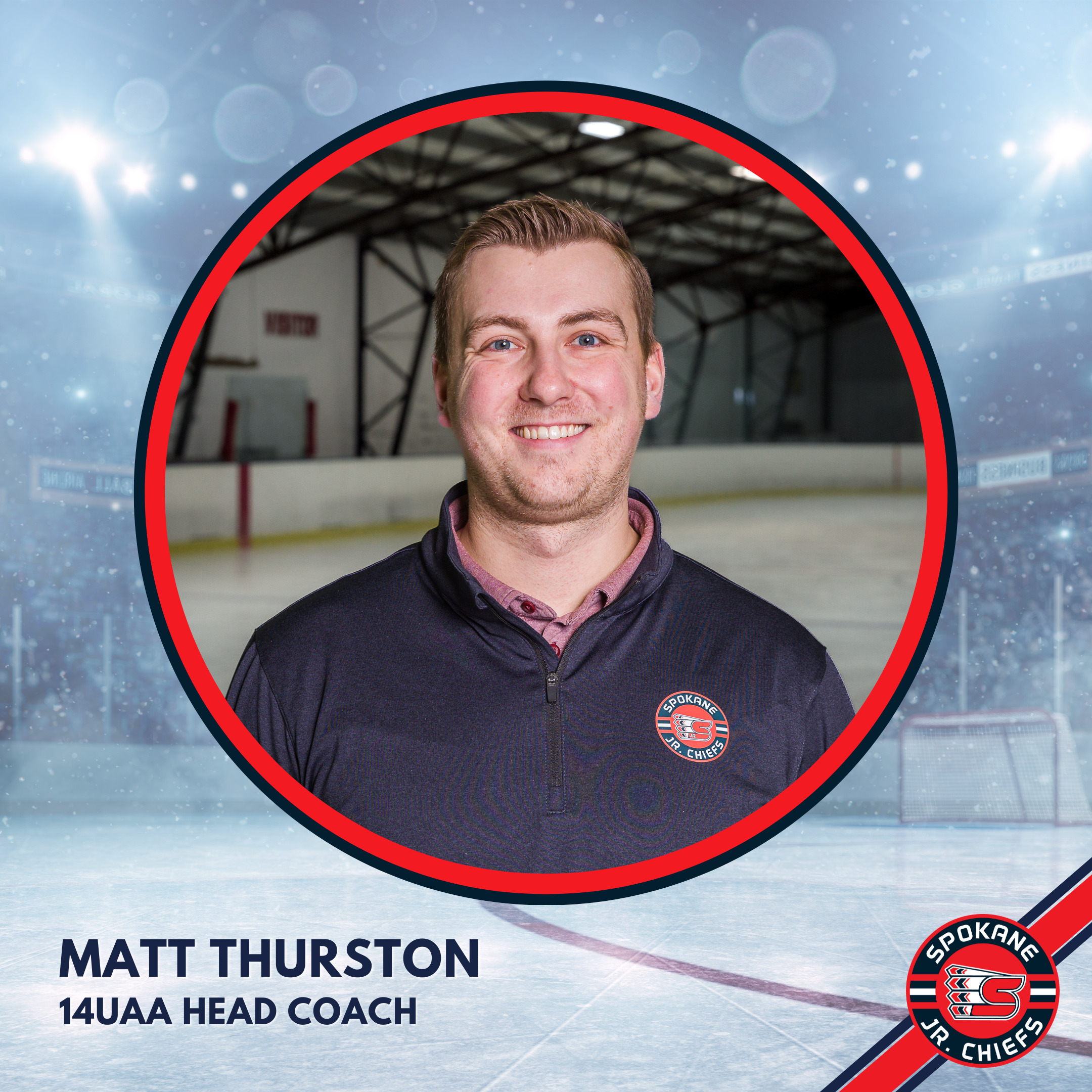 Hockey Director, 14UAA Head Coach
Coach Matt Thurston has coached with SAYHA for the past four seasons. He joined Spokane Youth Hockey's coaching staff as an Assistant Coach for the 16U Tier II team, and the following season was named Head Coach of the 14U Tier II team, leading the team to Nationals during the 2021-22 and 2022-23 seasons. Now working as SAYHA's Hockey Director, he has also served as SAYHA's Rep Division Director, Learn to Play Coordinator, and 8U and 10U Coordinator.
Matt began his hockey career in SAYHA's Learn to Play program as a five-year-old and went to the 2010 USA Hockey Nationals with the Jr. Chiefs as a AA Midget player. In his youth hockey career, Thurston played locally in Coeur D' Alene, Inland Empire, SAYHA, and also outside of the Northwest, playing 16UAAA in Las Vegas. After minor hockey, he went on to play three years for the Spokane Braves, serving as an Assistant Captain in his second and third years.
Coach Thurston holds a USA Hockey Level 4 CEP.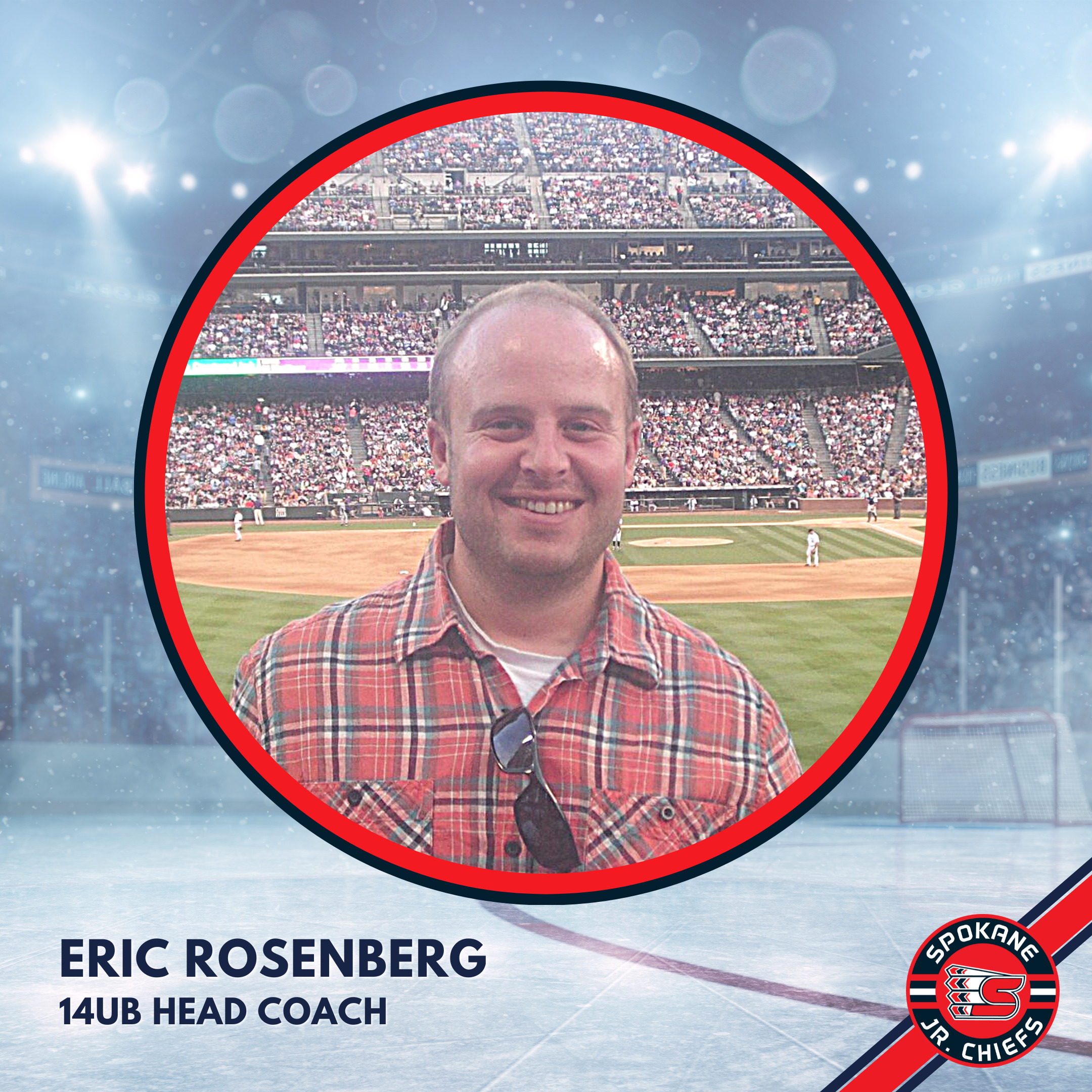 After playing for the Boston Jr. Bruins, Coach Eric Rosenberg was recruited to play hockey by Johnson and Wales University (Division III) in Providence, Rhode Island. Eric played all four years, serving as captain as a senior. The team reached the conference finals each season.
Coach Rosenberg earned his bachelor's degree in Sports/Event/Entertainment Management while at Johnson and Wales, turning his passion for sports into a career as first an intern and then as a team staff member working in ticket sales for the AHL's Providence Bruins.
Eric has worked all over the country with Liberty Mutual Insurance for the past 13 years, earning one of the company's most prestigious awards in 2015. With the award came a trip to Banff, Alberta, inspiring Eric's recent move to Spokane.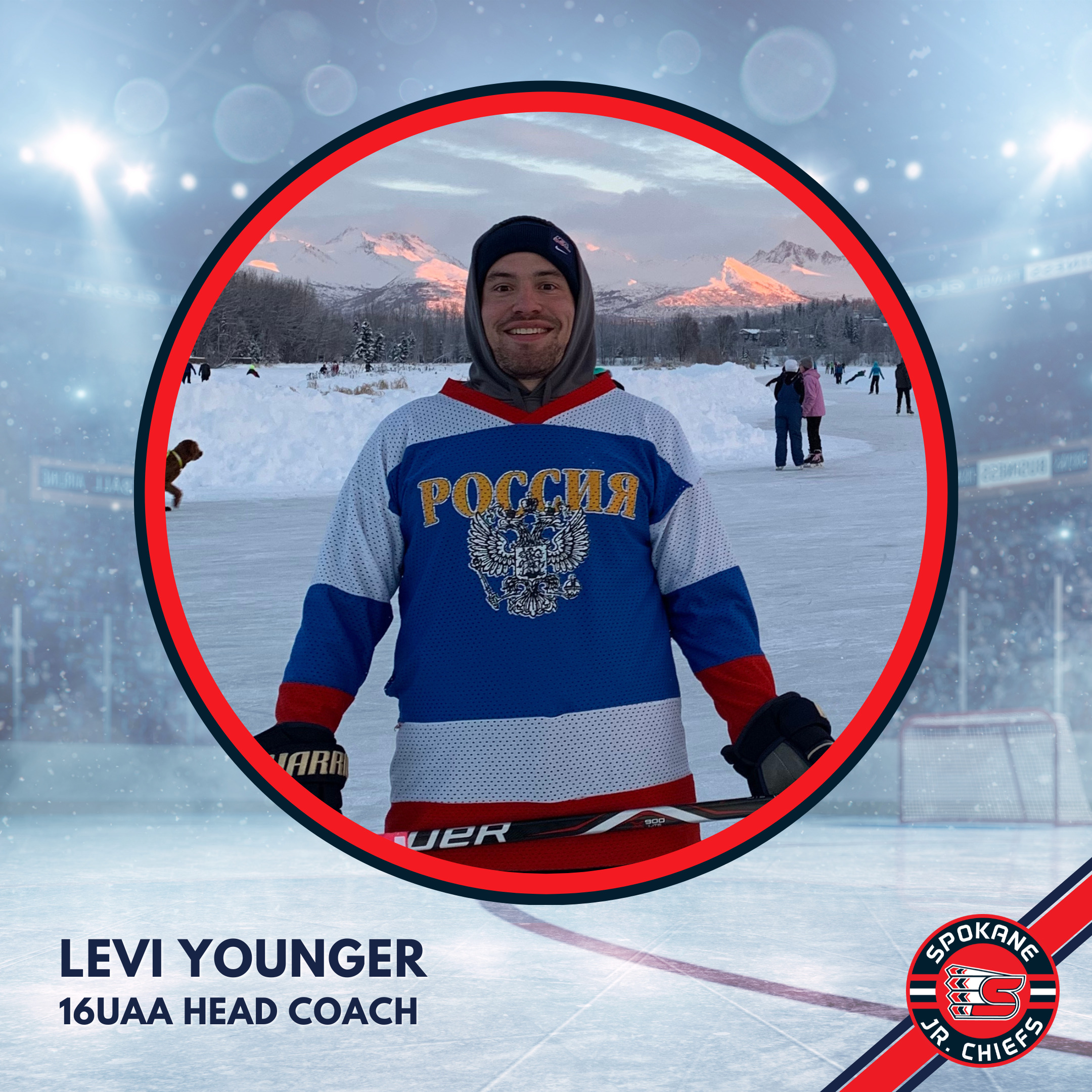 The 2023-24 season will mark Coach Levi Younger's eighth season coaching competitive hockey, having spent time coaching at the 14U-18U age groups in several states, including his home state of Alaska, Colorado, and most recently, in Bend, Oregon. Like many Alaskans, Levi grew up with a fanatic passion for the game, spending countless hours a night in the winter months playing at the outdoor rink near his parent's home. His minor hockey days were capped with two trips to Nationals at the 18U Tier II level. After high school, he convinced his parents to allow him to play a year of junior hockey in Texas before wrapping up his esteemed career with two seasons of club hockey at Portland State University.
Coach Younger specializes as a skills coach and has worked with players ranging from 12U-18U, House to AAA–and even adults. He firmly believes that players develop the best in an environment that is positive, enjoyable, and challenging. Levi is excited to join the hockey community in Spokane and assist in the development of the next generation of its players.
Coach Younger holds a USA Hockey Level 4 CEP and a Bronze Level Goaltending Coaching Certification.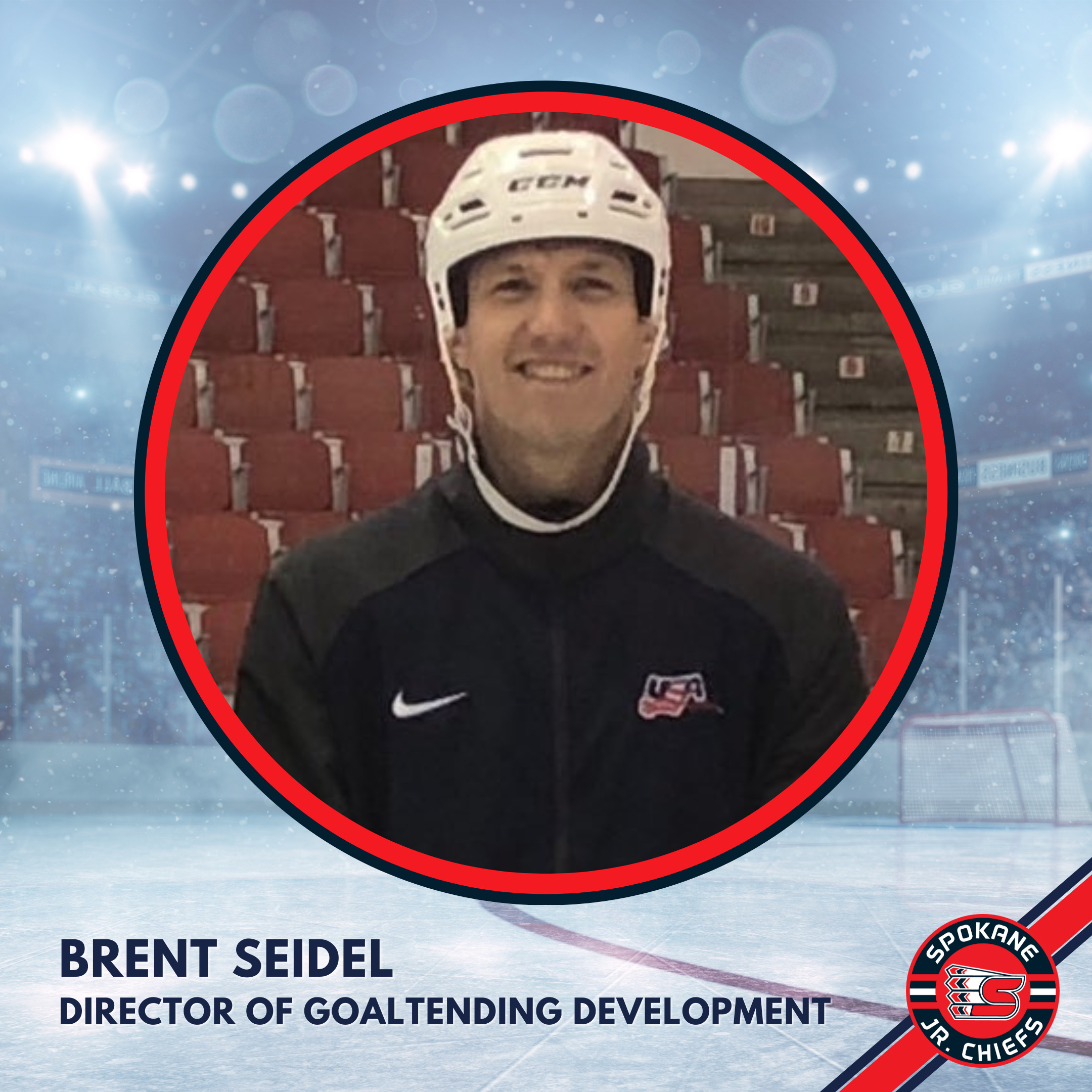 Director of Goaltending Development
Coach Brent Seidel is returning for his third season as Director of Goaltending Development at Spokane Youth Hockey. Beyond his coaching role at SAYHA, Brent is the Coaching Education Program Manager at USA Hockey. Prior to joining SAYHA, Brent has had roles in hockey operations and management with Team USA (World Jr. A Challenge), Seattle Thunderbirds, West Sound Warriors, and the City of Greeley, CO. At the same time, he has been the goalie coach for USA Hockey National Development Camp teams, Colorado College (NCAA D1), Fountain Valley High School (NAPHL PREP), Mountain High Hockey, Coronado High School (CHSAA), Resurrection High School (CHSAA), West Sound Warriors (NPHL) and Eugene Generals (NPHL). He has worked as a goalie coach for youth hockey associations such as the Colorado Springs Jr. Tigers, Seattle Jr. Thunderbirds, Kent Valley, Western Washington Wild, West Sound Jr. Warriors, and Greeley Bears.
Brent has worked alongside great goalie minds such as Ian Gordon (Seattle Thunderbirds WHL), Phil Osear (Detroit Red Wings), Jared Weiman (Tampa Bay Lightning), Kevin Reiter (USA Hockey), David Lassonde (USA Hockey), and Matt Zaba (Tri-City Storm USHL).
Coach Seidel holds a USA Hockey level 5 CEP and Gold Level Goaltending Coaching Certification.
We have found continued success through our full-time, weekly practice model, optimizing schedules and opportunities for player development without creating overblown budgets, instead choosing to keep the cost to families affordable through fundraising and sponsorship opportunities.
In addition to 3 weekly practices, powerskating, and skills instruction, our 14U-18U Rep players will have access to a free weekly goaltending/shooting clinic and additional skating and skill work opportunities with our SAYHA coaches. We are planning for 40-50 games per team, multiple league opportunities for each team, league tournaments, and regional US and Canadian tournaments. Over the 24-week hockey season, the 14U-18U Rep Division will have access to 5+ hours of weekly ice for development through our programming in addition to gameplay.
We look forward to continued success as we kick off the 14U/16U/18U Rep division season in a few weeks!
2023-24 SEASON OVERVIEW
3 weekly on-ice practices for 24 weeks
40-50 games (league, exhibition)
Weekly Powerskating and Skills Instruction
Free Weekly Goaltending/Shooting Clinic for SAYHA registered players
Potential OMAHA Zone league, West Kootenay league, PNAHA state league, additional Canadian exhibition gameplay
PNAHA State Tournament and/or Canadian league Tournaments
Additional regional US or Canadian tournaments
Additional skating and skill work opportunities available with SAYHA skills and powerskating coaches on SAYHA morning ice
Code of Excellence Apparel
Practice Jersey and Game Socks
Teambuilding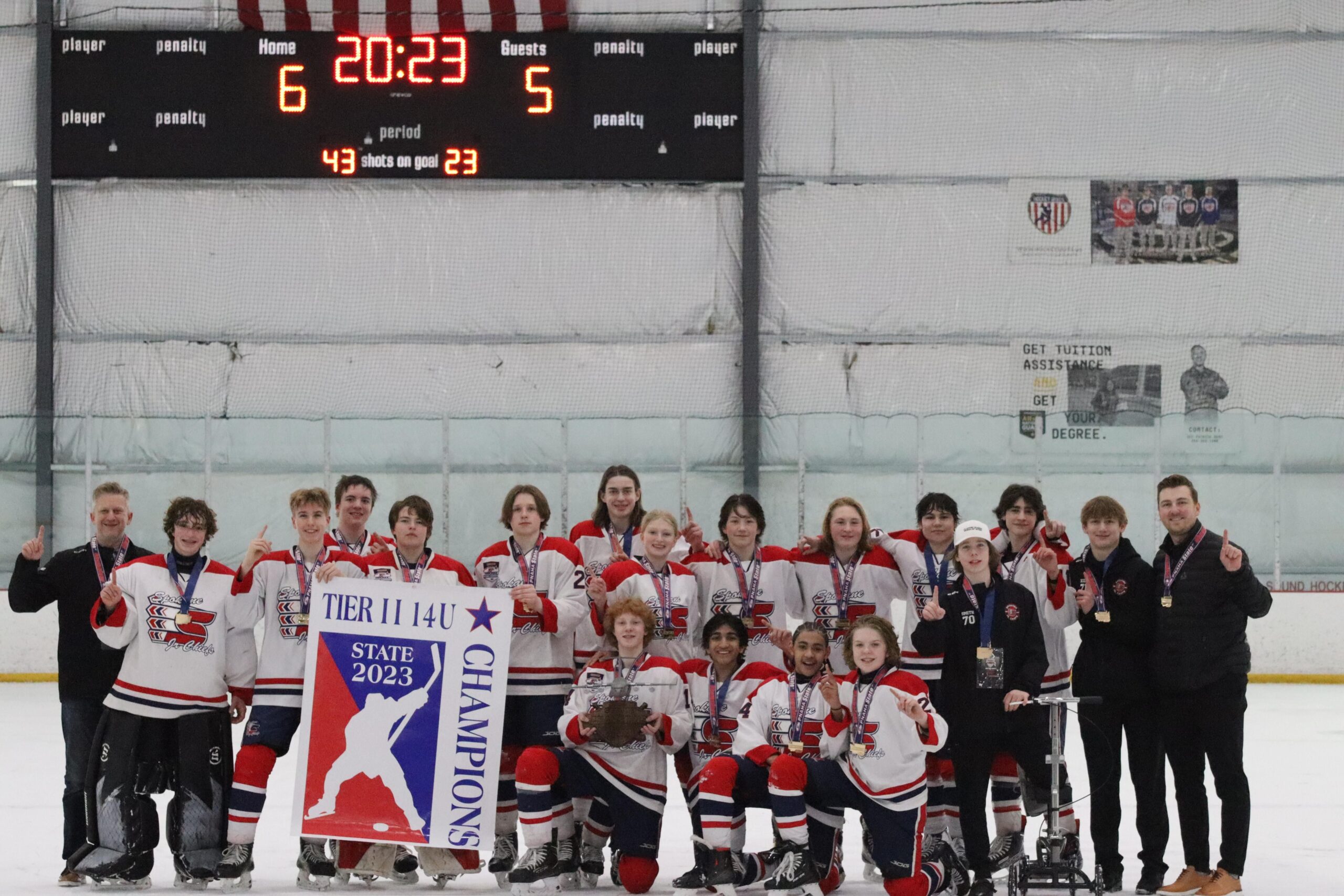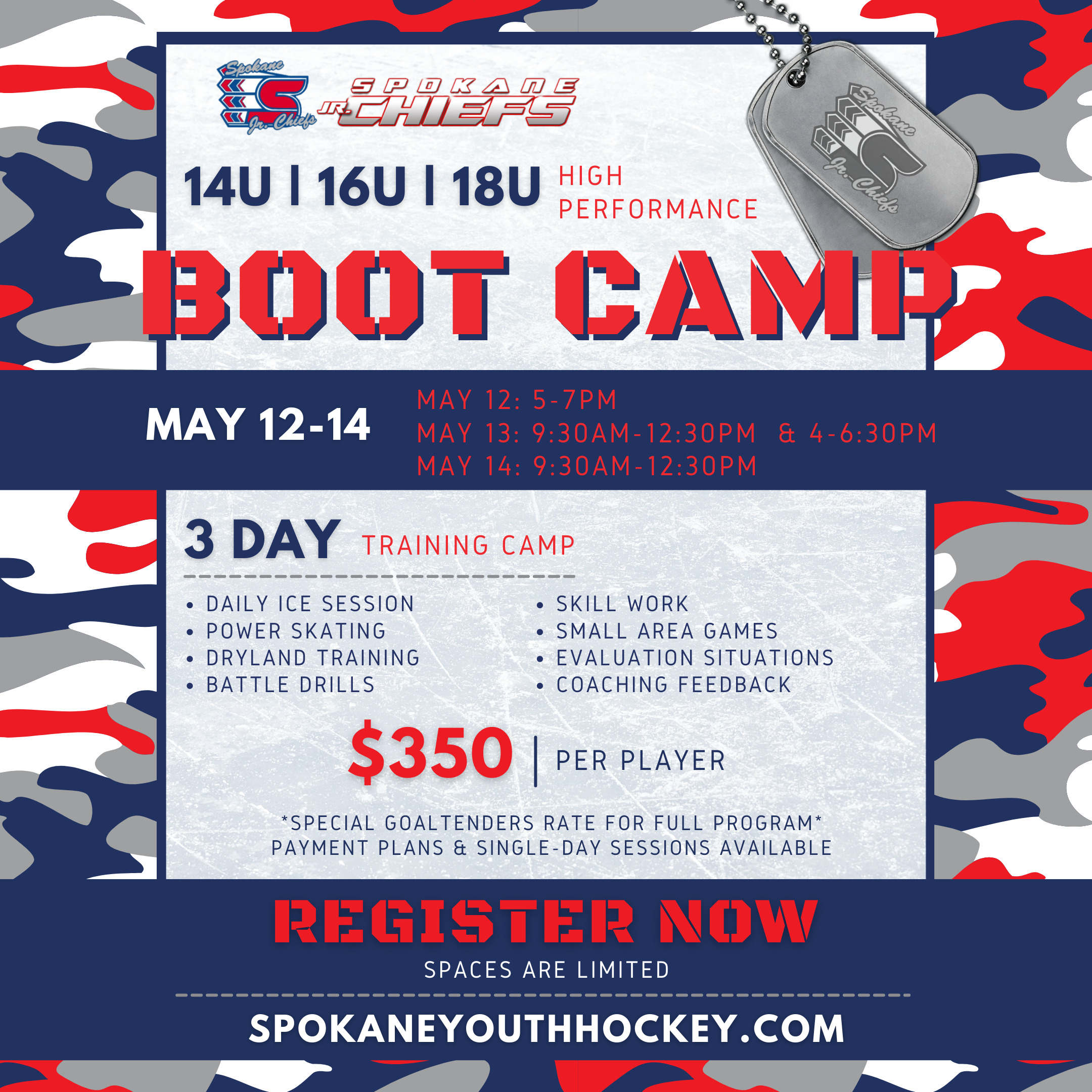 14U | 16U | 18U BOOT CAMP
Players will be pushed beyond their comfort zone each and every day of this 3-day training camp, preparing body and mind for the stresses of evaluations and the season through daily on-ice sessions and dryland workouts. Challenging power skating and puck skills drills, individual skill work, battle drills, and small area games. Evaluation situations and coaching feedback will prep skaters for the following weekend's Rep evaluations. A chalk talk and informational session are scheduled during the weekend.
Register for the full session (best value) or single-day sessions. Special goalie rate is available for the full program.
Schedule for the Weekend
Friday
5:00-6:00PM On Ice
6:30-7:30PM Dryland

Saturday
9:30-10:30AM Chalk Talk
11:30AM-12:30PM On Ice
--
4-5PM On Ice
5:30-6:30PM Info Session
Sunday
9:30-10:30AM Dryland
11:30AM-12:30PM On Ice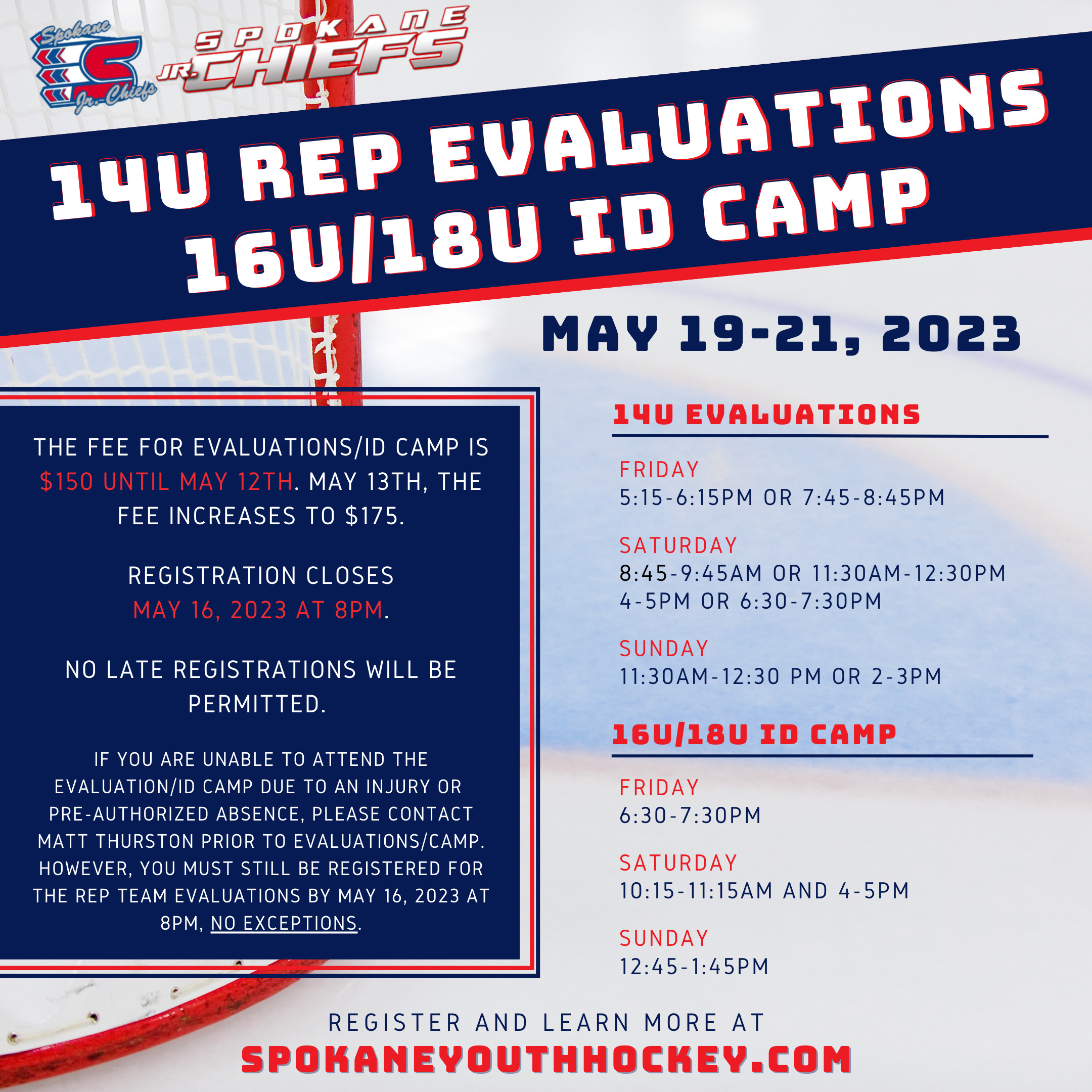 EVALUATIONS | ID CAMP
14U Team Evaluations and 16U/18U ID Camp will be held May 19th-21st! Register now to secure your spot at the early bird rate!
The fee for Evaluations/ID Camp is $150 until May 12th. May 13th, the fee increases to $175. Registration for Rep Evaluations closes on May 16th at 8 PM. No Late registrations will be permitted.
If you are unable to attend the evaluations due to an injury or pre-authorized absence, please contact Matt Thurston prior to evaluations/ID Camp. However, you must still be registered for the Rep Evaluation/ID Camp by May 16th at 8 PM. NO EXCEPTIONS.
Review the Rep Division Policies HERE.
**IMPORTANT NOTE** Prior to registering for Rep Evaluations/ID Camp, players MUST register for a 2023-24 USA Hockey Membership Number HERE.